Injection Pumps
Single Component Injection Grouting Pump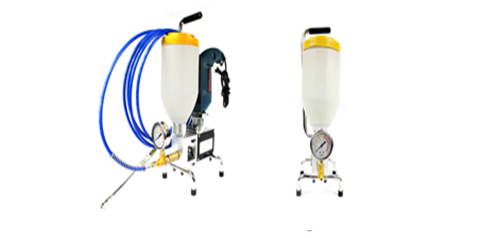 DESCRIPTION
SE-2000 is a Professional Injection Pump electronic drill powered and designed specially for easy and fast Injection of synthetic resin to the concrete structures. Though being very compact and powerful, it develops pressure gradually up to 10000 psi and is extremely light weight and easy to carry along even in basement or confined areas.
Being detachable it is easy to maintain and cleaning can be done conveniently.
This pump maintains even stable working pressure to give uniform grout delivery so even small cracks are filled neatly throughout line of grout injection area. So doing mid – size jobs daily with ease and reliability SE-2000 is the Perfect Machine.

Technical Specifications

• Working Pressure > 10000 psi
• Flow Rate – 1500 ml per minute.
• Hopper -3 liter Stainless steel.
• Hoses - 400 bar pressure.
• Ball valve – 400 bar pressure.
• Pressure gauge – 600 bar pressure.
• Fluid handled – PU or Epoxy resin.
• Fluid viscosity – 10 to 1000 cps.